Centor
A major feature of our Centor C1 folding door range is its amazing Eco Performance rating which has been independently tested to demonstrate extremely low U values achievable - meaning the highest levels of energy efficiency in terms of heat loss reduction from inside the building. It also performed superbly in extreme weather and air penetration tests, emphasising its excellent performance and reliability.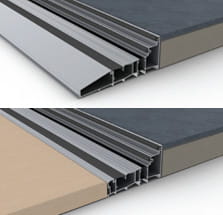 We're pleased to bring you an eco friendly product which can make your home a secure, weather proofed and energy efficient environment.
You will find the streamlined design which reflects contemporary living fits well with our reputation for combining style, quality and performance. With a variety of sill options, range of finishes and alternative pane combinations and almost unlimited colours available, the Centor C1 can be truly customised to suit your own home.
Precision engineering features include the innovative glider mechanism which provides smooth tracking and requires minimal touch operation. Tamper free hinges are hidden within the frames and the integral high tech security system gives you synchronised protection at multiple locking points.
With the energy efficiency improvements to be gained, you can enjoy a stylish home with lower heating requirements and fuel bills, reduce your carbon footprint and be protected from all the weather has to throw at you.