Introducing Internorm's I-tec core technology

Historically, wood was the original material of choice for the construction of window frames thanks to its unrivalled strength, reliability and natural availability. In more recent times, other materials have become available, which has meant that timber construction windows have had to be re-imagined and improved to compete with alternate materials in terms of stability, resistance and individuality. Internorm have taken timber to a new level by developing a new technology for window construction that firmly places timber back in the game, flying the flag for timber construction windows with its brand new I-tec core technology.

Using this new I-tec core technology, thin bonded layers of wood are formed in the core of the window, similar to the construction of extremely robust joists and roof beams. Using this approach, the result is an exceptionally solid, more resistant and resilient to moisture product. Sustainable from the outset, this new high-tech material is able to support larger dimensions of glazing as a result of its outstanding load-bearing capacity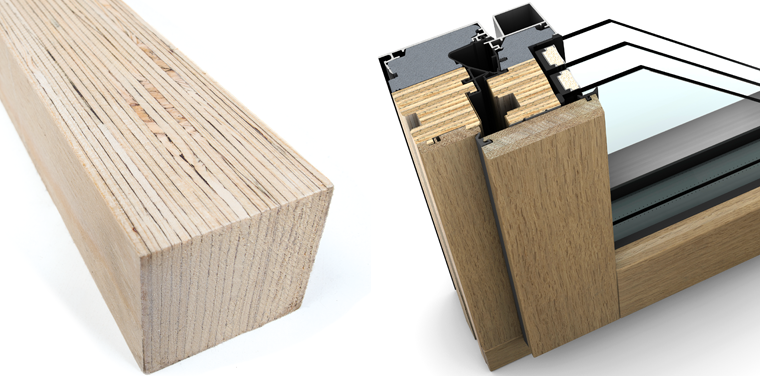 Some of the key benefits are:
Unrivalled solidity and a highly robust window thanks to the newly developed Internorm I-tec Core technology
Previously unseen standards in wood construction thanks to its high load-bearing capacity, 
Ability to withstand heavy loads where narrow cross sections are required and providing a higher load-bearing capacity than three-layer bonded spruce
Greater protection against moisture due to the multi-layer construction, ensuring that the wood remains dimensionally stable
Enhanced aesthetics thanks to slim frame design, as well as the I-tec Core providing all of the window's static functions
Compatible with standard fittings and protected against tannic acid, fittings are fixed within the core
Unlimited selection of timber to choose from, regardless of species strength
Wood from sustainably-managed forests featuring the PEFC seal of approval
Are you considering timber as a construction material for your next glazing installation? If you would like the additional benefits that Internorm's new I-tec core technology offers, speak to John Knight about this exciting new range.
We currently have 4 windows available with the new Internorm I-tec core.