George Barnsdale
At John Knight Glass we are very much concerned with environmental issues. George Barnsdale and Sons, being certified as compliant with both the Forest Stewardship Council's external audit process and the independent Programme for Endorsement of Forest Certification, share our values and so make ideal partners for us to work with. Like us, they are a hands-on, family business with a long tradition in the industry.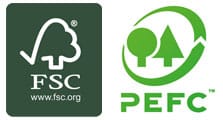 Both the FSC and PEFC enforce very strict ecological, ethical and social standards, so an endorsement with their logos will assure you that the timber in these products originates from sustainably managed forests.
 
George Barnsdale takes energy efficiency commitment beyond its production units – using their wooden shavings to provide animal bedding and power for water heating as well as recycling their waste cardboard and plastic.
With thermal efficiency ratings up to A rated, together with very low maintenance requirements and excellent durability, George Barnsdale timber framed doors and windows provide true Eco house benefits of fossil fuel conservation, energy efficiency and reduced heating bills with the peace of mind that they have been sustainably sourced and responsibly produced. Constant design review, attention to efficiency and performance with dedicated in house research, development and product testing underpin our confidence in this partnership.
Amongst our range of George Barnsdale timber products are sliding and tilt windows, Bi-fold doors and French doors. To see the full range, please visit John Knight Joinery or book a free consultation in our showroom through our contact form.
John personally has more than 35 years experience working with the highest quality timber products and technology. His knowledge of the many types of timber, for example: oak, heartwood, redwood, eucalyptus and accoya will help you choose the wood most suitable for your own property to sympathetically define its character and underlying charm.